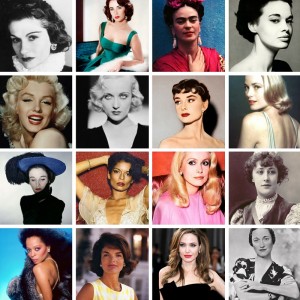 I've been curating a list of the greatest seductresses of all time for several months now, and today  I finally published it. To view the gallery, click here or scroll below.
The final list contains 103 irresistible women whose exploits span thousands of years.  From Cleopatra to Amal Clooney, some names will ring a historical bell, while others are more obscure.
I'd argue that my list is more inclusive than any other you'll find on the web or in a book. While I've included most of the classic historical examples, the likes of Marilyn Monroe and Pamela Churchill Harriman, I was careful to introduce several beguiling women, like jazz songstress Nina Simone, to the often limited seduction canon.
Curating any "greatest of all time" (G.O.A.T.) list is difficult, particularly when there is no clear rubric. A seductress, by nature, is sui generis, one-of-a-kind, hence one woman's brand of love may be entirely different than another's. Compare the buxom Mae West to the refined Jacqueline Kennedy, or the androgynous Colette to a sensual Penelope Cruz. Night and day.
Romantic success is of course a signature trait for any seductress. It's not that seductive women don't experience  heartbreak, I am sure every woman on my list has felt the pang of heartbreak at least once, but their victories far outweigh defeat, and when they win… they win big.
Most of the women on my list married well… several times. Some, like Lily Safra, made a career out of it. But marrying wealth and power alone could not be a sole qualifier. The seductress is far more than a trophy wife.
And while beauty gives the siren a distinct advantage,  you'll note that most of the women in my hall of fame  do not represent the classic beauty of their day, or any day for that matter. Cleopatra's nose was hooked. Jackie's eyes were said to be too far apart, and critics called Wallis Edward's gender into question.
The magic lied in their ability to elevate themselves, with a bit of ingenuity and style, from ordinary to extraordinary. As Oscar Wilde once said, "Beauty is a form of genius."
Still, there are several qualities that do unite legendary sirens.  They all possess an intoxicating mix of style, verve and discipline. They are all deeply committed to continual self-improvement, and they have the uncanny ability to transform themselves and their circumstances. Consider  Victoria Beckham's transformation from "Spice Girl" to sophisticated woman, or the stunning transformation of Heather Sweet into Dita Von Teese.
These women harnessed the power of reinvention and inspired the men in their lives to flourish as well. Jeanne Duval inspired poet Charles Baudelaire's most reknown volume of poetry. Lou Andreas Salome inspired two of psychologies greatest thinkers: Freud and Nietzsche.
Profound resilience is another defining marker, most having overcome a significant period of hardship before their ascent to glory. Gabrielle Chanel was an orphan. Josephine Baker was starved and abused as a child by the family for which she worked. Diana Ross sang her way out of the Detroit projects.
Every woman demonstrated passion for love and their endeavors. Among the 103, there are writers, singers, famous actresses, comedians, spies, entrepreneurs, fierce advocates and arbiters of style.
No matter what, the seductive woman makes the mold and breaks the mold. She leaves her unique mark, her beauty mark, on the world.
Jacqueline Kennedy, Bianca Jagger and Talitha Getty continue to inspire fashionable women. Millions of people read Arianna's "Huffington Post" daily. Chanel's name remains synonymous with chic sophistication and two women, Camilla Parker Bowles and Wallis Edwards, inspired a love so deep they compelled two future British Kings to relinquish the  royal crown.
Explore the list. Find the women who fascinate you and get acquainted with their stories. Among this catalogue of remarkable women,  there is bountiful inspiration.
xo,
Ayesha
The Greatest Seductresses of All Time
The founder of Women Love Power®, Ayesha K. Faines is a writer, media personality, and brave new voice for feminine power and social change. Sought after for her provocative insights on culture, mythology and gender politics, she has been featured on MTV, Essence, Entertainment Tonight, The Michael Baisden Radio Show, AfroPunk, and Time among other media outlets. She's traveled the world lecturing before a number of universities, and she pens a column for Zora Magazine that explores the intersection of love and power. She is best known as a featured panelist on "The Grapevine". Ayesha is a graduate of Yale University and a former television journalist.