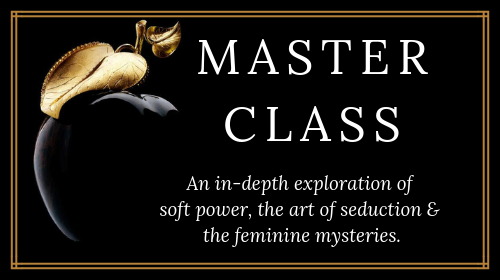 "To study the history of soft power is to know… this is a woman's game."
Power is the ability to get what you want. It's the ability to get your needs and desires met– and as a woman, that isn't always easy.
We are taught that power corrupts, and that power is masculine in nature– but that's only because we live in a culture that doesn't socialize women to go for what they want.
That's changing.
I've learned that all of the classic power texts were written by men. From Sun Tzu's treatise on warfare, to those crafted written by statesmen, philosophers and Japanese Samurai, every monumental work on power I've encountered was written by men , for men.
That's why it's essential for you to start talking about power, to start getting used to the feel of it and to learn how to harness your own power from the inside out.
As it turns out women wield power in fascinating, fabulous ways– and when we do… the world takes note. When women level up– and stand in their power, their lives changes, as do the lives of those they love.
I help world-class women elevate their lifestyles and relationships by incorporating ancient wisdom and fresh ideas in one-of-a-kind learning experiences.
I've devoted a decade to studying soft power and the feminine principle.I've been mentored by brilliant tacticians of both sexes. I've studied the lives of dynamic women who've mastered themselves and their circumstances. For over a decade, I have voraciously committed to becoming a thought leader in the realm of female power— just as the world experiences a massive shift towards feminine consciousness.
I invite you to join me once per month for an exclusive master class in feminine power.
Here's how it works:
Every month, you will receive an exclusive "Master Class" video series, as well as on-going access to virtual discussions, journal prompts and powerful exercises on topics that dive deep into soft power, the art of seduction, and the feminine mysteries:
Sacred Sexuality & the Cultivation of Erotic Energy
The Art of Seduction & Subversive Feminine Power
The Tools of Persuasion
The Art of Conversation, Wit & Humor
Access Your Inner Wisdom
The Art of Glamour & Theater of the Body
How to Harness Your Energy
Flow
The Interplay of Masculine and Feminine Energy
Case Studies of the Most Fascinating Women To Ever Live
Curing The Disease To 'Please'
Captivation, Based on the 13 Feminine Seduction Archetypes
Creative Energy & Manifestation
The Power of Pleasure And The Art of Living Well
Romantic Options: How To Exercise Your Birthright To Choose
Feminine Mystique
Translating Esoteric Feminine Wisdom into Modern Utility
The Power of Female Sex
Ancient Self-Care Rituals From All Over the World
The Principles of Attraction: How to Ignite and Sustain It
How to Get Rooted and Feel Good In Your Skin
The "Life Scripts" That Rule Our Lives– If We Let Them
How to Get in the Driver's Seat & Take Responsibility for Your Happiness
Overcoming Love, Money and Success Blocks
Radiant Self-Love and Authentic Confidence
How to Cultivate Magnetism, Presence and the 'It Factor'
Standing Out: Harnessing Your Unique Purpose, Power & Magnetism
Overcome Fears, Insecurity, and Self-Doubt
Grow Beyond 'Neediness'
Power Tactics for Today's Contemporary "Hook Up" Culture
Sexual Agency
Emotional and Energetic Healing
How to Communicate Your Desires and Boundaries in a "Knock Out" Way
Body language and 'Reading' Between the Lines
Recognize and Avoid Manipulation, Deception, and 'Game'
….and much, much more.
Enrollment opens again in 2019.
*Send email to ayesha@womenlovepower.com with questions.
SaveSave
SaveSave
SaveSave
Ayesha Faines has been featured and/or quoted in…
SaveSave