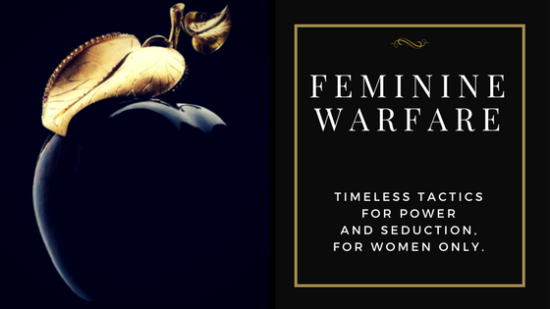 "To study the history of seduction and persuasion is to know… this is a woman's game."
Power is the ability to get what you want. We are taught that power corrupts, and that power is masculine in nature– but these myths couldn't be further from the truth.
People corrupt. Power is neutral.
Power is a survival skill. It is absolutely essential for both men and women  to acquire power in order to meet their needs and  desires, but the truth is, we acquire power in different ways.
A decade ago, when I began to immerse myself in the study of power and strategy, I realized that all of the great texts were written by men. From Sun Tzu's treatise on warfare, to books written by statesmen, philosophers and even the great Japanese Samurai, every work I encountered was written by men and for men. Even for contemporary work written on seduction and strategy, this  holds true.
And while some tactics are universal, women really do need their own playbook for power. 
Even if you are 'wary' of games and the idea of strategizing to reach your personal, professional and romantic goals, everyone should be familiar with the kinds of 'games' people play if you are to avoid falling victim.  Believe it or not, all around you, every single day, from your colleagues to the men who sweep into our lives, people are vying for power. Those with power make decisions. Those without, have decisions made for them.
I've devoted a decade to studying the classic and even most obscure texts on power, warfare, intrigue and seduction. I've been mentored by brilliant tacticians of both sexes.  I've studied the lives of women who've mastered themselves and their circumstances.
Now, I am offering a power playbook just for women– one unlike anything the world has ever seen. Of this, I am certain.
Members will gain access to an on-going collection of  exclusive videos, virtual meet-ups, in-depth articles and powerful exercises on the following subjects:
Sacred Sexuality& the Cultivation of Sexual Energy
Seduction, Charm, and Feminine Persuasion
The Tools of Soft Power
The Art of Conversation
How to Access Your Inner Wisdom
How to Harness Your Energy, Rather Than Work Against It
The Interplay of Masculine and Feminine Energy
Case Studies of the Most Fascinating Women To Ever Live
Curing The Disease To 'Please'
Develop Your Ability to Captivate Based on the 13 Feminine Seduction Archetypes
Using Creative Energy to Manifest Your Desires
The Power of Pleasure And The Art of  Living Well
Romantic Options: How To Exercise Your Birthright To Choose
Feminine Mystique
Vagina Power
Ancient Self-Care Rituals From All Over the World
The Principles of Attraction: How to Ignite and Sustain  It
How to Get Rooted and Feel Good In Your Skin
The "Life Scripts" That Rule Our Lives– If We Let Them
How to Get in the Driver's Seat & Take Responsibility for Your Happiness
Overcoming Love, Money and Success Blocks
Radiant Self-Love and Authentic  Confidence
Power Tactics: Identify and Subdue  Enemies (anyone who stands between you and your goal)
Mental Toughness, Focus &  Perseverance
How to Cultivate Magnetism, Presence and the 'It Factor'
How to Stand Out
Overcome Fears, Insecurity, and Self-Doubt
Grow Beyond 'Neediness'
Power Tactics for Today's Contemporary "Hook Up" Culture
Sexual Agency
Emotional and Energetic Healing
How to Communicate Your Desires and Boundaries in a "Knock Out" Way
Body language and 'Reading' Between the Lines
Recognize and Avoid Manipulation, Deception, and 'Game'
….and much, much more.
Arriving April 15th,  2018.
*Send email to ayesha@womenlovepower.com with questions.
SaveSave
SaveSave
SaveSave
SaveSave