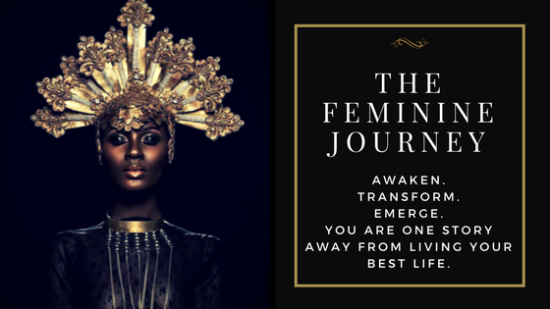 What holds you back?
I  am here to help you reclaim your power to live as you choose.
The problem with 'the rules' and the traditional advice  we offer women is that it does not free us.  In attempting to tell women how to get what they want, we give them more boundaries, more expectations, and more behavior codes that are rooted in fear and ignorance about what really makes women powerful.
So many people really do believe that our power begins and ends at youth, beauty, and our willingness to give ourselves away, unconditionally, to others. So many people confuse our softness with blind submission. And so many people, at different eras in history, also believed the earth was flat…
Because so many people can be dead wrong.
Truth is light, and knowledge is power.
Armed with information, you can accomplish absolutely anything.
In order to get in the driver's seat of your life, you must master three simple things; your mind, your energy and the people around you.
If, according to William Shakespeare, the world is a stage and all the men are players…, then, please allow me to ask a question:
Are you running the show? Or is the show running you?
Are  you…
— interested in practices to honor your dominant archetypes or daily rituals to connect to your feminine energy?
–struggling to experience pleasure, either physically or in your everyday life?
–feeling stuck or 'trapped' by your current situation, and unable to move forward?
–standing at the scratch-line working to recreate yourself or a new career? (I've been there, and done that!)
— seeking more sensuality and greater confidence and assertiveness?
–feeling invisible?
–committing 'disappearing acts' with partners who take way more than they  give?
— stuck in a pattern of passionate, yet  emotionally destructive relationships?
— feeling hungry…for validation, for love, for happiness, or simply, for more?
–prone to addictive, destructive, or self-sabotaging behaviors?
–unable to assert your own desires and boundaries?
— hoping to better understand and control the power dynamics in your professional, social or romantic relationships?
–out of touch with your feminine power– your sensual, intuitive, creative, blissful nature?
–exhausted, burned out and overwhelmed from juggling multiple roles?
If any of these apply to you, we should have a conversation.
The truth is, you are not your circumstances. You are not even your habits and behaviors. As Jim Carrey said in a speech, "You are not the image on the celluloid. You are the light shining through."
With knowledge, perspective and incremental lifestyle changes, you can shift your mindset, your energy, and release the habits that no longer serve you. You can live as you wish.
Those  desires you have– you know the desires I'm talking about, the ones that make you feel excited, warm all over and giddy with possibility–they are not spontaneous. Your desires are here for you to reach them. They are you!
So, I invite you to work with me.
I am not a therapist.
What I do offer is  a rare, specialized knowledge of the unique ways that women acquire and wield power. I recognize that most material written about acquiring power, historically, has been written for men. Until now.
I developed this  expertise over the past decade largely through voracious study, life experience (aka learning the hard way), and the many, many incredible women who mentored me! 
The jet-setting, celebrity dermatologist taught me how to be assertive, and to make a name for myself. The two sisters who owned  a beauty boutique took me under their wing during my college years, teaching me the nuts and bolts of entrepreneurship and feminine self-care. The educator  taught me about 'presence' and how to win over any audience. The 7-figure real estate agent taught me how to live a balanced life of incredible pleasure and purpose. The Fortune 500 hundred SVP taught me how to win–no matter what. The artist taught me how to entertain and to live authentically. The basketball coach taught me everything I'd ever need to know about 'handling' men.  And then of course, there is my mother, the embodiment of femininity, grace and POWER.
Having amazing women in my corner, at every stage of my life, to guide my decisions, offer tough love and precious wisdom is the part of my education in becoming a powerful woman that no amount of money could buy.
It's an honor to use what I know now to help you.
Why?
Because the world needs you, at your best.
The world needs more women who are powerful, authentic and  brave– and who actively choose love over fear.
I will teach you to  master your mind. I will  teach you to master people. And I will teach you to enhance your  creative 'feminine' energy in order to awaken, transform, emerge…. and experience deeper pleasure.
Let's embark on this  journey of self-discovery and power together.
You'll realize that the world doesn't change. You change– and then you, in turn, change your world.
To book a 60 minute session, securely reserve a space via PayPal, and leave a message below  with your  background information,  goals, and anything else you would like me to know.   You will receive my response to book a date and time within 48 hours. You may be asked to provide a copy of your quiz results.
The Feminine Journey: Awaken. Transform. Emerge.
Inquire below for more information.
SaveSave
SaveSave
SaveSaveSaveSaveSaveSave
SaveSave
SaveSave