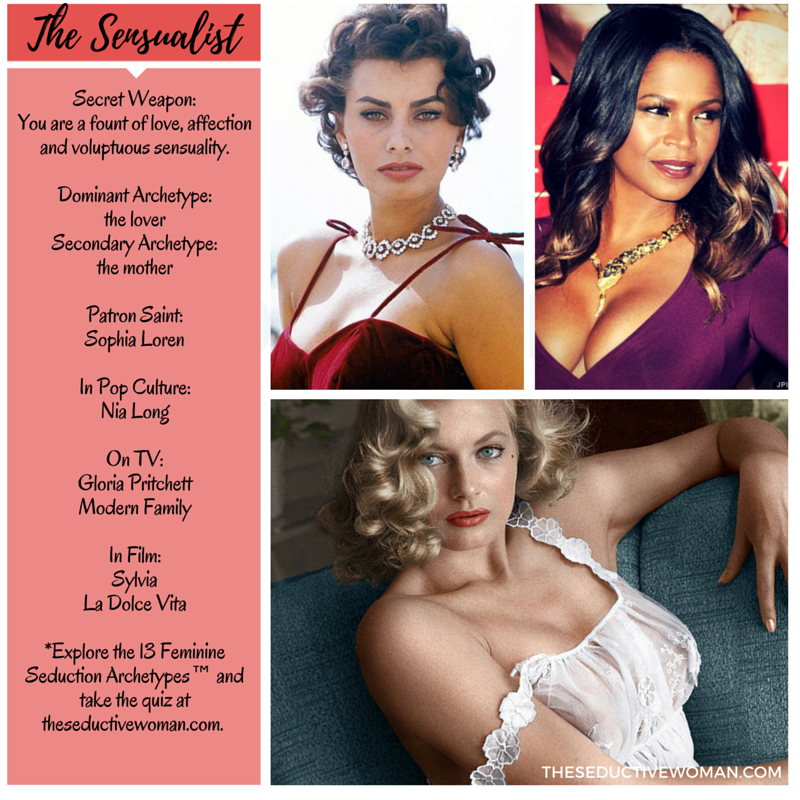 "There is a fountain of youth: It is your mind, your talents, the creativity you bring to your life and the lives of people you love."

-Sophia Loren
You are a fount of nurturing love, affection and robust sensuality. With the lover as your dominant archetype, you appreciate spontaneity, living in the moment, and rich, tactile experiences.  Your secondary archetype, the mother, makes you warm, affectionate, and down-to-earth. You satisfy two powerful, primal male instincts; to procreate, and to receive physical and emotional nourishment.
In your presence, a man feels aroused, relaxed, and slightly coddled.  You relish in the pleasure of taking care of others. You are a giving lover, and sexuality for you is very much a give-and-take. If you enjoy cooking, creating a meal for  your man can be a tantalizing, erotic experience that he'll pine for. It's not just the food he enjoys, but the spirit in which it is prepared, presented, and enjoyed. Celebrity chef Nigella Lawson has been nicknamed the "Goddess of Pleasure"–her approach to cooking often described as border-line erotic. 
There is nothing self-conscious or uptight about you. Your robust vitality penetrates those around you.  Your warm, open energy encourages others to relax and be themselves. You can let your hair down, break into laughter, or fall into your lovers arms at a moments notice. When you live up to your seductive potential, admirers will find you positively intoxicating.
Are you a sensualist?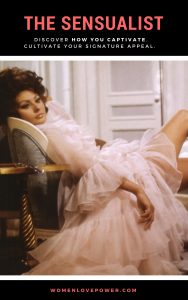 I invite you to dive deeper into the inner-workings of your personality and the unique way you captivate. This forthcoming workbook reveals the secret to making the most of  your assets, and how to overcome your  greatest challenges. I poured years of research into one concise, interactive resource– replete with  case-studies, proven strategies and an actionable game plan to maximize your presence and personal power.
Hit the button and when it's available, you'll be first to know.
Curious about your archetype? Take the psychology-driven Seduction Archetype Quiz.  
Explore the Sensualist archetype on Pinterest!


Click to learn more about the other archetypes: Siren | Sophisticate | Boss | Bohemian | Coquette | Goddess | Enigma | Diva | Empress | Sensualist | Lady | Ingenue | Gamine
DO YOU LOVE POWER?
Then stop settling! Step up your inner and outer game with exclusive insight into power, seduction, and sensuality.
Thanks! Now just check your inbox for the confirmation link and you're in!
Something went wrong.