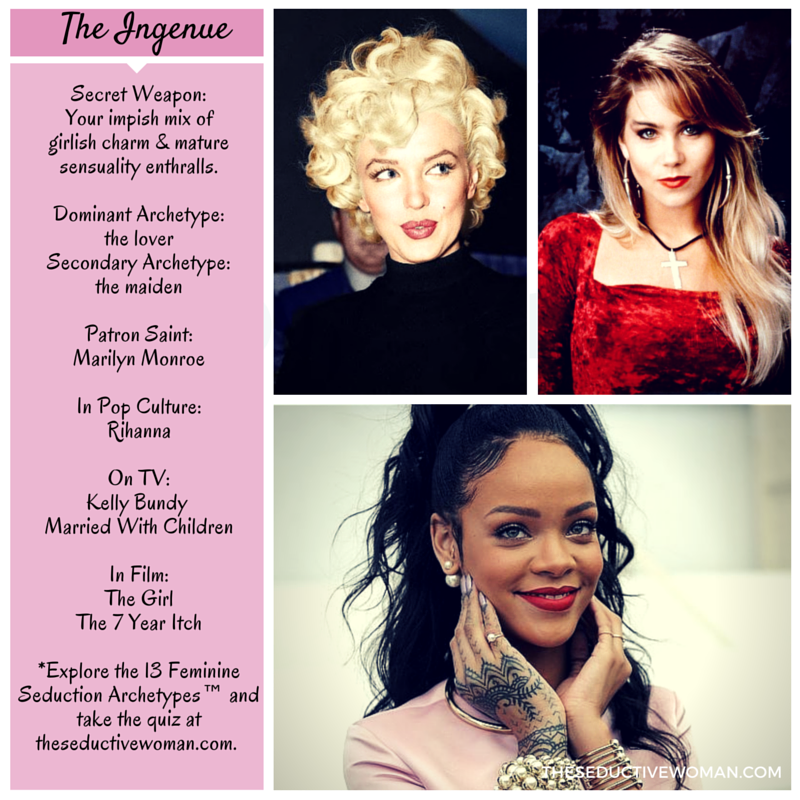 "Imperfection is beauty, madness is genius, and it's better to be absolutely ridiculous than absolutely boring."

-Marilyn Monroe
It could  be the wiggle in your walk, the impish sparkle in your eye, or your rock-and-roll lifestyle. Whatever your signature trait may be, you have a natural charm that makes men swoon. With the lover as your dominant archetype, you possess an uninhibited sensuality. Your secondary archetype, the maiden, imparts a life long effervescence. Together, the juxtaposition of womanly sex appeal and girlish innocence tantalizes your admirers.
Consider Marilyn Monroe's voluptuous curves and her sinuous gait, both a contrast to her breathy, baby doll voice and exaggerated naiveté. Or consider pop star Rihanna's brazen sex appeal, with her devil-may-care attitude. She resembles a rebellious teenage girl; dark, spontaneous, open and liable to do or say anything. In the art of seduction, such paradox is irresistible. You appeal to a man's procreative and paternal instincts, stimulating both his libido and his inner protector.
There are two distinct aspects of the maiden's archetype best illustrated in the myth of Persephone, Greek goddess of the depths. Persephone is a sheltered, carefree maiden until Hades, God of the underworld, abducts her and makes her his bride.  Ultimately, Persephone agrees to spend 1/3 of the year, the winter, in the underworld with Hades, and the rest of the year, above ground.  Persephone's journey between reality and and the depths is is a metaphor for the maiden's personality.
In their child state, women influenced by the "maiden" archetype  are  light, charming, innocent and malleable. In their queen state, they can be mercurial, mystical, and connected to, at times overwhelmed by, their emotional depths. Consider Marilyn's darker side, the private anguish and depression that haunted her off screen. Ironically, that touch of madness added to her allure. The actress never fully learned to cope with her dark side, but most maidens, as they mature, reconcile both aspects of their personality, a breakthrough that usually follows a significant physical or psychological loss during which she "find herself" and comes to identify and trust her own inner voice.
Until you evolve, your frank sexuality and receptive energy may be a blessing and a curse. Men will be drawn to your vulnerability and authenticity. Your lack of defenses will put them at ease, but you may also find yourself drawn to  dark, emotionally unavailable, or even abusive men (consider Rihanna's relationship with Chris Brown) and you may struggle with boundaries. Regardless of where you are in your journey, your mix of youthful effervescence and mature sensuality is the essence of  your charm.
Reclaim your power. Learn more about the archetypes, along with the game-changing insight into seduction, emotional persuasion and soft power with the breakthroughFive Laws of Feminine Power.

Curious about your archetype? Take the psychology-driven Seduction Archetype Quiz.  
Explore the Ingenue archetype on Pinterest!


Click to learn more about the other archetypes: Siren | Sophisticate | Boss | Bohemian | Coquette | Goddess | Enigma | Diva | Empress | Sensualist | Lady | Ingenue | Gamine
DO YOU LOVE POWER?
Then stop settling! Step up your inner and outer game with exclusive insight into power, seduction, and sensuality.
Thanks! Now just check your inbox for the confirmation link and you're in!
Something went wrong.