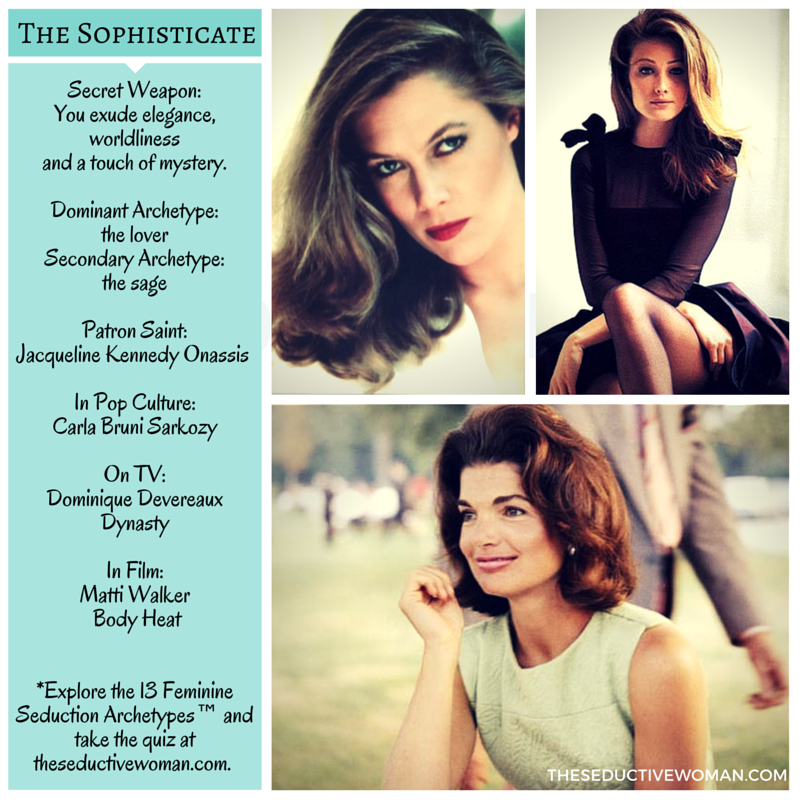 A girl should be two things; classy and fabulous.

–Audrey Hepburn
You are elegance personified. Graceful and dignified with discriminating tastes, your complex blend of the siren's warm, erotic energy and the sage's cool, objective thinking, fascinates men. You draw them in with your composed demeanor, and heightened femininity, but the real magic happens once they come near. That's when you disarm with wit and charm.
A natural strategist, you see the big picture. You are capable of distancing yourself from your feelings enough to see events as they are, not as your emotions color them.  With the siren's sensuality, and sage's level-headed approach, you wield your seductive power selectively.  You are capable of choosing men, and making them feel they have chosen you.
When it comes to suitors, only heroes need apply. You are attracted to powerful, smart,  ambitious men.  If his heart is set on glory, you are his not-so-secret weapon. You are capable of using your strategic thinking and sharp social instincts to help him reach his goals. Consider the manner in which Jackie Kennedy helped Jack write his early political speeches, and won over constituents with her chic style and personal charm. Powerful men are drawn to the sophisticate's alpha femininity, but they are far more than arm pieces. Carl Bruni earned millions as a model-turned-singer and song writer before she met the President of France—who proposed after just a few dates. The sophisticate often thrives in careers that unite her mental prowess with her natural creativity.
All sophisticates have the ability to be brilliant conversationalists; naturally curious and knowledgeable about sundry topics, you possess the intuition and charm it takes to engage people and establish instant rapport. You have an easy manner; you can be both smart and witty. Your scintillating personality and effortless chic distinguish you from other women.
Men appreciate your duality; your disarming exterior, and cerebral core. You are capable of being a man's companion, confidant and counsel, but no matter how close to you he feels—a part of you will always remain a mystery. He will never know everything you are thinking, or all you could say. As affable as you are, you've mastered the skill of selective disclosure. There is  always something left to the imagination. This, along with  your natural elegance, is apart of your charm.
Prepare to dive deep into the inner-workings of your personality and the unique way you captivate.  The forthcoming workbook reveals transformational insight, fascinating case-studies, exclusive strategy and an actionable game plan to maximize your presence and personal power.
Hit the button and when it's available, you'll be first to know.
Curious about your archetype? Take the psychology-driven Seduction Archetype Quiz.  
Explore the Sophisticate archetype on Pinterest!
Click to learn more about the other archetypes: Siren | Sophisticate | Boss | Bohemian | Coquette | Goddess | Enigma | Diva | Empress | Sensualist | Lady | Ingenue | Gamine
DO YOU LOVE POWER?
Then stop settling! Step up your inner and outer game with exclusive insight into power, seduction, and sensuality.
Thanks! Now just check your inbox for the confirmation link and you're in!
Something went wrong.