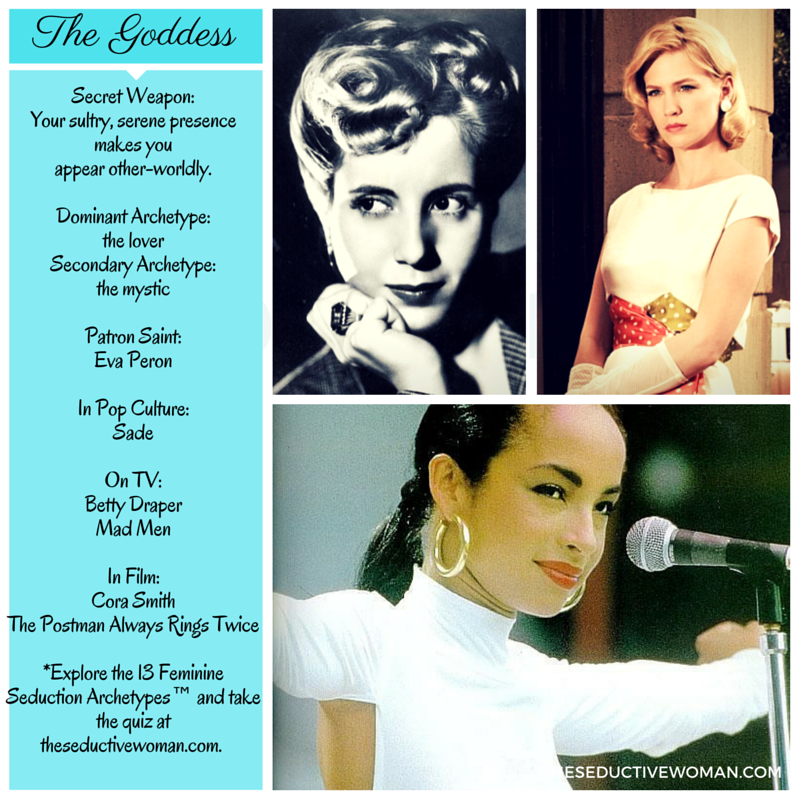 "You don't have to be naked to be sexy."

–Nicole Kidman
Your sultry, serene presences mesmerizes, while your emotional detachment keeps your admirers at arms length.  Your extreme emotional equanimity and calm presence makes you appear above the quotidian and banal. You appear other-worldly–like a mythic goddess come to life. Some may even find you aloof.
In reality, you are one of the rare women with a deeply internal focus. A natural introvert, you appreciate solitude and activities that allow you to go inward, like meditation, yoga,  prayer and creative projects in a studio or garden. You enjoy attention, which you attract with your striking appearance, and sensuality, but there is a distinct subdued aspect to your personality.
Your secondary archetype is the mystic, who like Hestia, the Greek goddess who protected the fire burning at the center of  homes, is content within herself. Inner peace and spirituality, or at least feeling connected to something greater, are priorities for you.  Your home is your sanctuary and your regard your personal space as sacred.
Men are attracted to your sensual and soulful nature. It is as if there is a  hearth, a warm fire, blazing within you.  Just as people are drawn to a fire's warmth,  men find your calm, serene presence and grounded energy comforting. Your distance is equally enchanting. You are like a star, sparkling from a light years away. Few can get close enough to see your more human qualities.
You appeal to a man's instinct to dream. Your majestic poise and serenity, paired with your calm demeanor make you a blank canvas on which your admirers may project their fantasies. Your emotional distance conceals your more human qualities. The combination of warm siren energy, and cool mystic energy creates an emotional vacuum that consumes people, making them want more of you.
Consider R&B crooner Sade, whose subdued, sultry sound has been described as "the voice of comfort to the wounded heart". The  enigmatic songstress often performs her gentle sounding music in bare feet, her costumes, simple, her lush hair, away from her face—and even though she releases roughly one album per decade,  she maintains legions of loyal fans. In her absence, her presence looms larger. This is the power of the goddess.
Are you a goddess?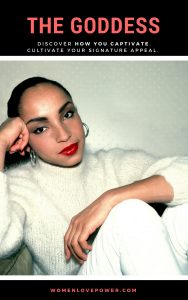 I invite you to dive deeper into the inner-workings of your personality and the unique way you captivate. This forthcoming workbook reveals the secret to making the most of  your assets, and how to overcome your  greatest challenges. I poured years of research into one concise, interactive resource– replete with  case-studies, proven strategies and an actionable game plan to maximize your presence and personal power.
Hit the button and when it's available, you'll be first to know.
Curious about your archetype? Take the psychology-driven Seduction Archetype Quiz and claim your free report.  
Explore the Goddess archetype on Pinterest!

Click to learn more about the other archetypes: Siren | Sophisticate | Boss | Bohemian | Coquette | Goddess | Enigma | Diva | Empress | Sensualist | Lady | Ingenue | Gamine
DO YOU LOVE POWER?
Then stop settling! Step up your inner and outer game with exclusive insight into power, seduction, and sensuality.
Thanks! Now just check your inbox for the confirmation link and you're in!
Something went wrong.