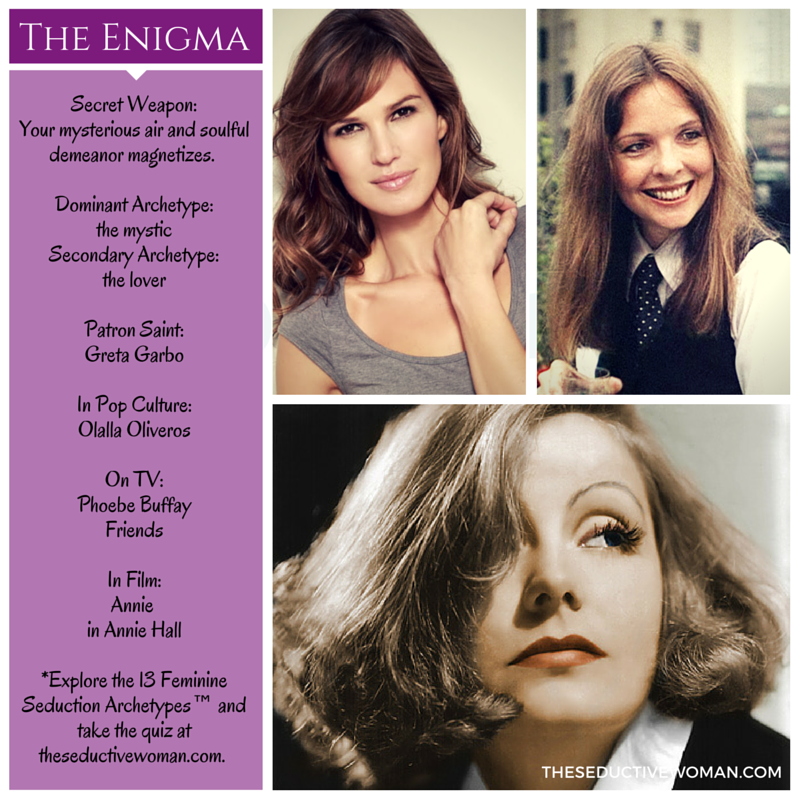 "I never said, 'I want to be alone.' I only said, 'I want to be left alone'. There is all the difference."

–Greta Garbo
You project a zen-like, earthy, soulfulness that is positively magnetic. At first glance, you may seem aloof, or even  quirky due to your reclusive, often spiritual personality. But you are neither cold nor narcissistic. Ruled by the mystic archetype, the rarest of all the 7 feminine archetypes, you focus your emotions inward. You crave neither fame nor constant attention. Spiritual fulfillment and inner peace are your highest priorities. You yearn to feel connected to something greater.
Like the Greek goddess Hestia, who ruled over the hearth, your home is your sanctuary.  You have the unique ability to make a space feel cozy and welcoming, though your style of décor  is never over-the-top. Instead, an understated, down-to-earth approach to style is your trademark. You relish in activities that foster solitude or a sense of selflessness—art, photography, yoga, meditation, spiritual work, and even volunteering.  You have the ability to make the mundane sacred, and you take pleasure in quiet activities, whether it's tending  to your garden or cleaning your home.
You don't need validation, attention, competition, or connection to make you feel whole.  You may even flee those things for the comfort of solitude. You are content within yourself and that extreme self-possession is your most attractive quality.  You are unattached to outcomes, people or possessions. This inner strength and depth moves men.
You aren't jealous or possessive, hence men feel they can be with you and still have freedom to move within their world. You don't frighten them with overwhelming emotion. For the fleet-footed-man who thrives on adventure and personal freedom, a woman like you is ideal.  You are comforting, grounding energy.
You are an attentive listener, a rarity in this day and age, and you can offer a man your rapt attention in  a way most people can not. You make  your lover feel seen and heard in a way that the rest of the world can not.
In her autobiography "My Art, My Life", Mexican artist Frida Kahlo's description of her lover, artist Diego Rivera, an otherwise comely man twenty years her senior, is positively breathtaking. It's as if the beauty of his soul overrides any of his corporeal flaws. In spite of their monumental love, Frida and Diego maintained an "open" marriage long  before that term even entered the popular vernacular, an extreme example of the enigma's ability to love with a light grip.
Your soulful, eccentric nature will attract men,  but you always remain just out of reach. You keep apart of you just for yourself. A man never feels he has "figured you out" hence you  forever remain an enigma, without trying. Into your mystery a man may fall, hoping to find his redemption in the solution.
Learn more about the art of captivation, and get breakthrough insight into seduction, soft power and feminine energy, with the game-changing Five Laws of Feminine Power.

Curious about your archetype? Take the psychology-driven Seduction Archetype Quiz.  
Explore the Enigma archetype on Pinterest!
Click to learn more about the other archetypes: Siren | Sophisticate | Boss | Bohemian | Coquette | Goddess | Enigma | Diva | Empress | Sensualist | Lady | Ingenue | Gamine
DO YOU LOVE POWER?
Then stop settling! Step up your inner and outer game with exclusive insight into power, seduction, and sensuality.
Thanks! Now just check your inbox for the confirmation link and you're in!
Something went wrong.