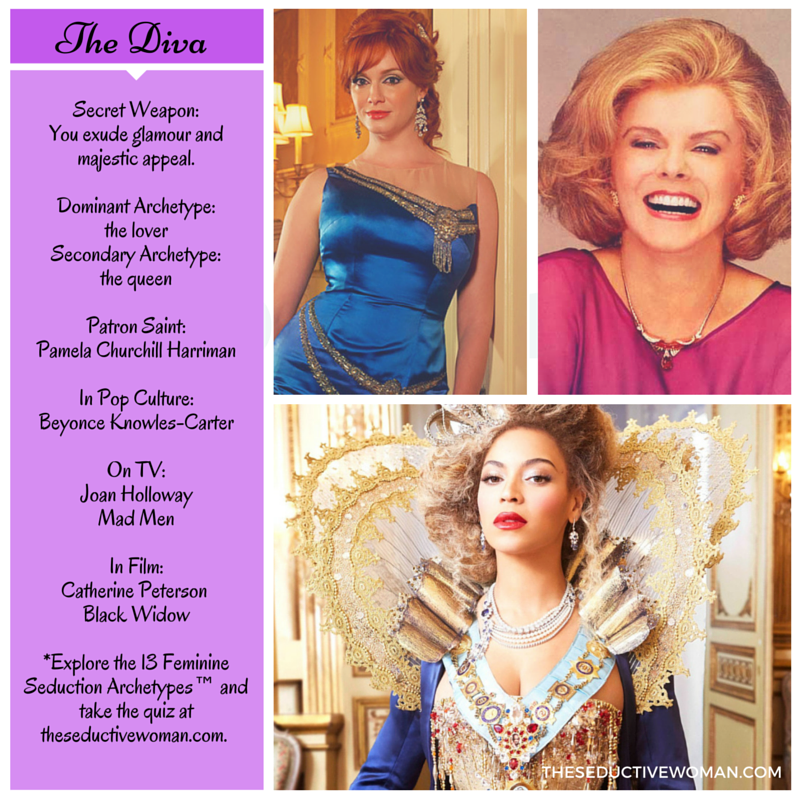 "We owe something to extravagance, for thrift and adventure seldom go hand in hand."

-Lady Randolph Churchill
You were born to wear a crown, and while you may not reign over a kingdom (yet), your regal bearing and  glamorous style commands adoration and respect. Ruled  by the "lover" archetype, you exude warmth, sensuality and grand femininity. With the "queen" as your secondary archetype, you see a union with a natural born leader as part of your destiny.
Just as Hera, the Greek goddess of marriage, sat at the helm of Mt. Olympus with Zeus, you too, feel compelled to co-rule a dynasty beside a powerful man. Together, your two dominant archetypes coalesce to create a majestic, larger than life, physical presence– the warm eros of the "siren", with the "queen's" regal baring and quiet strength.
You are able to divine a man's potential, even before he does. You make a man feel like a king, even before he's reached that status. When you focus on him, with your rapt attention, he feels like the most fascinating man on the planet. You elevate men with your support and eye-catching physical presence. The term "trophy wife"… that's you.  You inspire them to conquer the world so that he may lay it at your feet.  For you, dating is a high stakes game.  You can enjoy pleasurable liaisons, but your ultimate goal is to marry and to marry well.
Consider multi-platinum selling pop star Beyonce Knowles, who in spite of her epic career and jet-setting lifestyle, has devoted herself to one man, Jay-Z (a Zeus-like mogul) for the better part of her adult life. Together, they bolster each other's reputation  and co-rule an entertainment empire.
Diva's may thrive in the social and professional setting, due to their innate creativity and leadership skills, but they will always gravitate toward marriage, and becoming one half of a power couple.
Once in love you are fiercely loyal. A bit of a chameleon, you may gravitate to the tastes and activities of your significant other. You never compete, instead, you act as his companion, shining a spotlight on your man's best qualities. Your attention is intoxicating.
You have discriminating taste. You want the best out of life, and  you are willing to use your talent, charm, and preternatural social skills to attain it. A leader yourself, you are capable of running a business or being the fabulous social butterfly you were born to be.  You have mastered the fine art of living and you do it with an enviable grandiosity.
Learn more about the art of captivation, and get breakthrough insight into seduction, soft power and feminine energy, with the game-changing Five Laws of Feminine Power.
Curious about your archetype? Take the psychology-driven Seduction Archetype Quiz.
Explore the Diva archetype on Pinterest!

Click to learn more about the other archetypes: Siren | Sophisticate | Boss | Bohemian | Coquette | Goddess | Enigma | Diva | Empress | Sensualist | Lady | Ingenue | Gamine
DO YOU LOVE POWER?
Then stop settling! Step up your inner and outer game with exclusive insight into power, seduction, and sensuality.
Thanks! Now just check your inbox for the confirmation link and you're in!
Something went wrong.