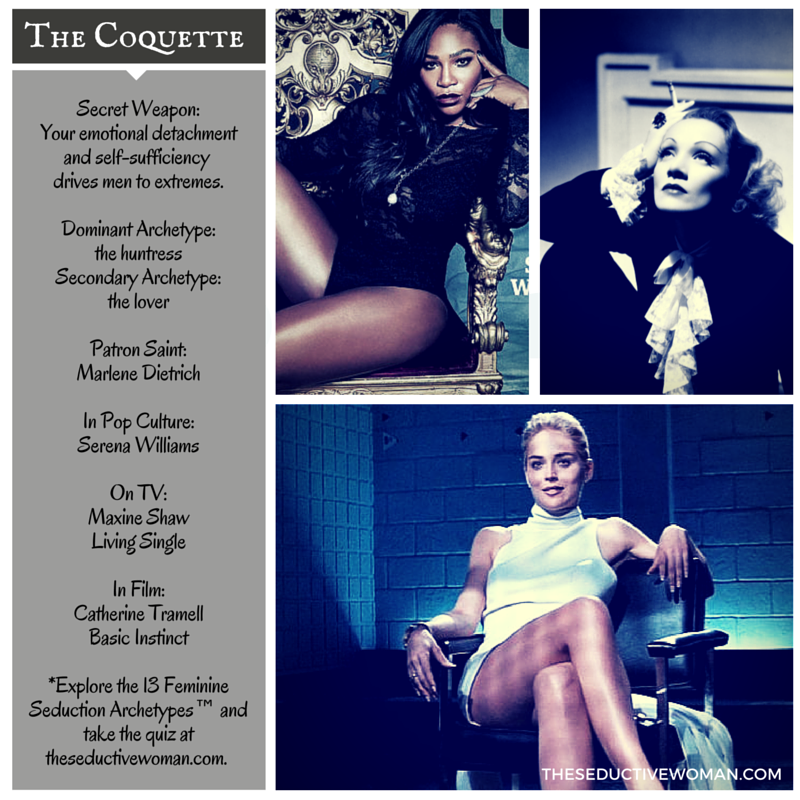 "The weak are more likely to make the strong weak than the strong are likely to make the weak strong."

–Marlene Dietrich
Of all the female seductive archetypes, the coquette is most likely to lead a man to his ruin. The source of your charm isn't always obvious. Your appeal lies in your emotional distance,  your ability to retreat, leaving the other pining in your absence. This romantic give-and-take can reduce the most heroic man into an insecure shell of his former self.
With  a dominant "huntress" archetype, you are a confident, emotionally self-sufficient, freedom-seeking woman. Nothing matters more to you than independence and you resist being swallowed up in the oceanic depths of emotions. You are a passionate person,  but you often feel most deeply about work that moves you, or championing a cause. Romantic love is not a dominiant priority for you though your are more than capable of a loving relationship. As long as a man treats you with respect and gives you what you want, you are content. You aren't prone to jealousy or feelings of insecurity or co-dependency within a relationship.
Man's infatuation with a coquette's powers knows no bounds. Charles could never shake his first love, Camilla Parker Bowles, and after tragedy and much royal scandal, he ultimately married her, essentially renouncing his right to the throne. Lou Andreas Salome held her admirers in such thrall that two of the world's leading philosophers, Paul Ree and Friedrich Nietzsche, agreed to a live-in ménage-a-trois where they, two esteemed men of logic, fought for her affection like school boys.
When the lover archetype is active, which is critical for the coquette to be effective, your confident, sensual, and cool energy  enraptures. You understand how to create a provocative appearance, and you express your irreverence with bold style and finesse—consider Serena Williams eye-catching tennis outfits, or Kathleen Turner's androgynous chic.
You have moxie, nerve and verve. You don't shy from speaking your mind, and you may even share many of a man's interests, from sports  to flying planes. You are an adventurer at heart. You are even capable of having sex "like a man", without strings attached, when the feeling moves you.
Your emotional self-sufficiency is powerfully seductive, and you can tease a man without trying. You don't need emotional connection or validation to feel complete. This appeals to a man's instinct pursue and chase you, though in his quest for victory, he just may become a victim.
Learn more about the art of captivation, and get breakthrough insight into seduction, soft power and feminine energy, with the game-changing Five Laws of Feminine Power.
Curious about your archetype? Take the psychology-driven Seduction Archetype Quiz.
Explore the Coquette archetype on Pinterest!

Click to learn more about the other archetypes: Siren | Sophisticate | Boss | Bohemian | Coquette | Goddess | Enigma | Diva | Empress | Sensualist | Lady | Ingenue | Gamine
DO YOU LOVE POWER?
Then stop settling! Step up your inner and outer game with exclusive insight into power, seduction, and sensuality.
Thanks! Now just check your inbox for the confirmation link and you're in!
Something went wrong.