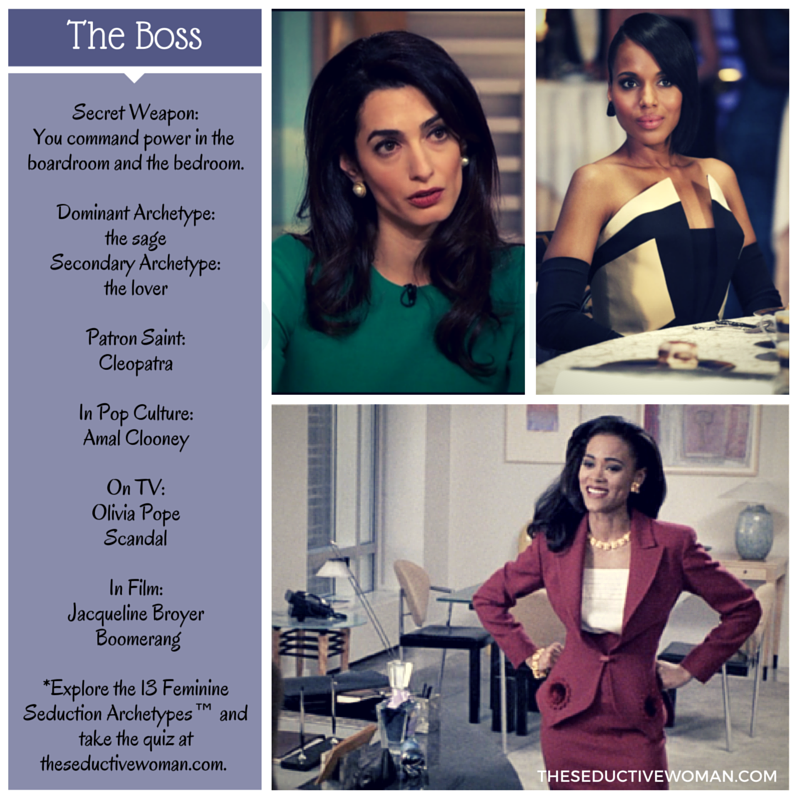 "Tell me what you think about me; I buy my own diamonds and I buy my own rings."

-Beyonce
Even the most skilled player will fumble when he encounters a woman who is confident, competent, and totally self-possessed. Some people call you an alpha-female, a "boss babe", or better yet, the perfect mix of beauty and brains. Regardless of the label, when a successful man meets you—he's met his match.
Your cool demeanor, mental acuity and emotional independence are the essence of your appeal. With the "sage" as your dominant archetype, you are a goal-oriented woman, motivated by proximity to power and the pursuit of knowledge. Unlike the siren, you do not need to connect in order to feel fulfilled. When a man senses that you do not fundamentally need him, you ignite a man's instinct to chase and conquer. Consider how fictional DC fixer Olivia Pope triggers neurotic behavior in the otherwise self-possessed President Fitzgerald Grant on ABC's Scandal, or how international human rights attorney Amal Clooney turned the tables on a life-long bachelor George Clooney.
You thrive in traditionally male-dominated environments and you may enjoy conversations about business, politics, and current events. Sometimes you date for sport– your tremendous self-sufficiency allows you to play the field without fear of heartbreak.
The Boss is ruled by the cool "sage" archetype, but the lover archetype is ever present. When this combination happens, your appearance is commanding, sophisticated and enticingly feminine. You may even use your  feminine charm like ammo, to further your cause in business and love.
Get more groundbreaking insight into the art of captivation, as well as  seduction, feminine energy and soft power, with the game-changing Five Laws of Feminine Power.
Curious about your archetype? Take the psychology-driven Seduction Archetype Quiz.  
Explore the Boss archetype on Pinterest!

Click to learn more about the other archetypes: Siren | Sophisticate | Boss | Bohemian | Coquette | Goddess | Enigma | Diva | Empress | Sensualist | Lady | Ingenue | Gamine
DO YOU LOVE POWER?
Then stop settling! Step up your inner and outer game with exclusive insight into power, seduction, and sensuality.
Thanks! Now just check your inbox for the confirmation link and you're in!
Something went wrong.