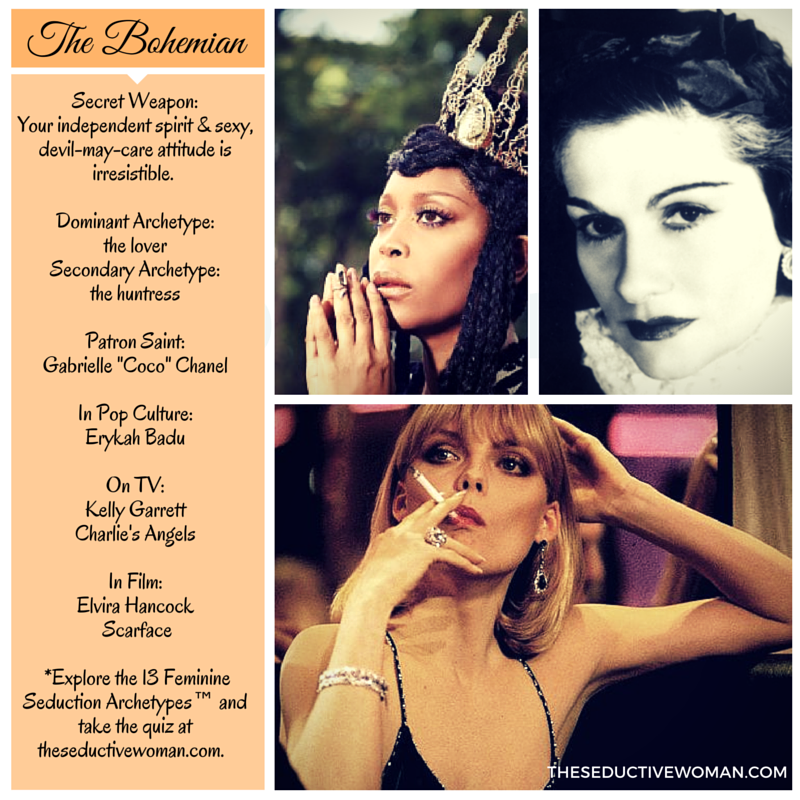 "If I make a fool of myself, who cares? I'm not frightened by anyone's perception of me."

–Angelina Jolie
Your sexy, devil-may-care attitude makes you naturally seductive. You are an independent, goal-oriented, free-spirit and you are fundamentally unconcerned with how anyone perceives you. This irreverence is immensely alluring.
You don't try to please, so men fall all over themselves, trying to please you.
You possess the sensual, creative, pleasure-seeking, spontaneity of the siren, with the physical, independent nature of the huntress. The huntress archetype represents a woman's autonomy and her ability to select a life of her own choosing. Your individuality often shows up in your pursuits and your appearance which is most often eclectic.
Unlike the "boss" who lives primarily in her head, you live completely in your body and there's a certain down-to-earth, physicality about you that men find tantalizing. You may be athletic, fond of the great out doors, or just extremely confident in your own skin. Either way, your physicality shows.
Men respond to your confidence, self-possession, and maverick spirit. You draw him in with your intriguing look, but it is your independent spirit that keeps him on his toes. Like the Greek goddess Artemis, who roamed the forests, free from romantic entanglements, you treat relationships with a light touch. You are capable of deep love, but you are not possessive, and you may even move on frequently. You often trigger a man's impulse to conquer when he senses your inner independence. Brad Pitt dropped everything (including his current girlfriend) to create a family with Angelina Jolie. Erykah Badu's power over hip-hop's finest has been described as nothing short of magic.
Learn more about the art of captivation, and get breakthrough insight into seduction, soft power and feminine energy, with the game-changing Five Laws of Feminine Power.
Curious about your archetype? Take the psychology-driven Seduction Archetype Quiz.  
Explore the Bohemian archetype on Pinterest!


Click to learn more about the other archetypes: Siren | Sophisticate | Boss | Bohemian | Coquette | Goddess | Enigma | Diva | Empress | Sensualist | Lady | Ingenue | Gamine
DO YOU LOVE POWER?
Then stop settling! Step up your inner and outer game with exclusive insight into power, seduction, and sensuality.
Thanks! Now just check your inbox for the confirmation link and you're in!
Something went wrong.